Take a staycation with Lincs & Notts Air Ambulance
Lincs & Notts Air Ambulance needs your help today to help keep their lifesaving helicopter in the air as the coronavirus pandemic has stunted their fundraising. Show your support by taking a staycation and donating to the charity.
Pitch a tent in your garden, have a mini break in your caravan on the driveway, indulge in different cultural cuisine for the week. These are some ideas for inspiration on setting up your own staycation.
Throughout the pandemic Lincs & Notts Air Ambulance have been severely impacted. They told Lincoln Bus that "in line with Government advice, we have cancelled all fundraising events, cheque collections, talks, box collections and all upcoming engagements which involve the gathering of people".
"Our shops have also been temporarily closed. Naturally, our income has been severely impacted".
Donate £10 by texting STAYCATION to 70085.
Take a photo of your staycation, post it on social media with the hashtag #GreatBigStaycation, donate £10 to Lincs & Notts Air Ambulance and have fun knowing that your efforts are helping the lifesaving helicopter and crew stay in the air.
The favourite Staycation photo will receive an invite to their new HQ in 2021, where you'll meet the crew and helicopter.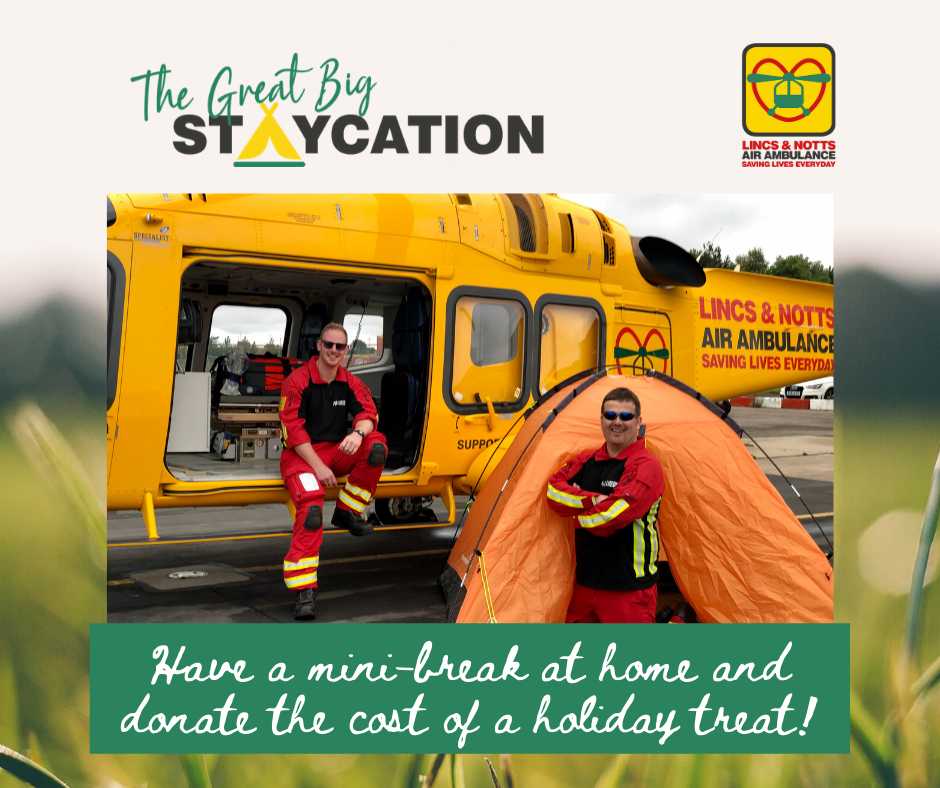 Lincs & Notts Air Ambulance told Lincoln Bus that in May 2020 alone they responded to 76 lifesaving missions transporting patients by air or land to 7 different hospitals, across 3 counties. A majority of these incidents they responded to were road collisions and heart attacks.
Donate £10 by texting STAYCATION to 70085 or press the button below to go directly to their Just Giving Page.
Donate on their Just Giving page
Learn more about the campaign